McMenamins Old St. Francis School Brewery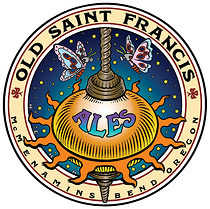 Established: November 2004
2010 Brewery Production: 2,523 kegs (312,852 pints)
The onsite brewery opened as part of the rejuvenated Old St. Francis School in 2004. Once the basement lunchroom of the former Catholic school, the area has been transformed to facilitate the creation of the handcrafted ales St. Francis' patrons have come to know and admire. The brewery's fermentation tanks are decorated with fantastical designs of mystical creatures and fairy-like imps.
Brewer Mike "Curly" White has been the resident brewer here since 2006, and beers such as Royal Oil Oatmeal Stout, Parson Brown & Gunslinger Pale Ale are all proven recipes appreciated by the regulars.  Old St. Francis has also represented McMenamins at the last two Holiday Ale Fests held in Portland during the Yuletide season.
"Curly's Firkin" release on the last Wednesday of each month held in O'Kanes has become the stuff of local legend.  Beer, fun, fires & cigars.
McMenamins Old St. Francis School Brewery Website
Related Posts: